Join Online Casino : See All Casinos
Join casino by: Games Providers - Accepted Countries - Banking Options
You are here: Join Online Casino > Join Online Casino Tips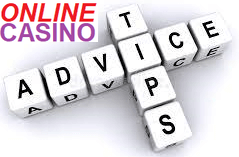 Tips & Advice when joining an online casino
All online casinos will claim to be the best and try to convince you to join its casino and play for real money. But there are invaluable 'insider' 'Do's & Don't tips' that can help you steer your way to joining a trustworthy online casino that will look after you as the valued member you are. We base the following insider advice on our approximately 25 years reviewing online casinos and our own personal experiences. All links to casinos and reviews open in a new tab/window so you can stay on this page.
Play smart. Follow our tips & advice.
Our wonderful words of wisdom. There's lots to read but you'll be wiser for it:
Is your country allowed to join?
It might seem an obvious question but loads of players join online casinos only to discover the country they're living in is EXCLUDED from joining! Or, the country is accepted but bonuses are excluded and you particularly wanted that bonus you noticed. Read the casino's T&C and look for 'excluded countries'. Search the T&C page for your country's name - see if it appears anywhere. Some casino's have separate 'general T&C' and 'bonuses T&C' pages - read them both so you're fully aware of any country-restrictions that might apply to you.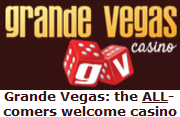 Examples: Uptown Aces (read Uptown Aces review) is an almost universally accepted casino but still has a small number of excluded countries (Israel, Moldova, Netherlands, UK) whereas casinos such as Grande Vegas (read Grande Vegas review) have an all-comers welcome policy with NO excluded countries for real money play. At the opposite extreme, some casinos literally accept only one or two countries, ie. Ignition Casino (read Ignition review) only allow players from two countries - Australia and USA. Then we have bonuses to consider. Spinfinity (read Spinfinity review) is an example of a casino generally-speaking open to various countries but in reality targets only Canada/USA and ONLY offers bonuses to those countries, so it's worth checking that your intended casino-to-join not only allows your country but ALSO hasn't blocked you from bonuses, if you intend to claim them.
Can you deposit & withdraw?
You're joining an online casino to enjoy yourself and be entertained but your goal is to win money. That's not going to happen if you don't have any valid means of depositing funds into your casino account AND be able to easily withdraw your winnings when you want to cash out. Our banking pages can help here, particularly if you want to bank via Bitcoin/crypto, Interac or Neosurf. But most players still use their debit/credit cards to deposit and cash out funds and generally, it works well. But you need to know in advance that you can withdraw your funds via a method to your liking when you want to cash out money. Check the casino's 'banking' page for deposit and withdrawal options, minimum/maximum amounts, any fees applied, etc. And THEN, when you've joined the online casino, check AGAIN in the banking cashier of your account.
Many casinos list lots of banking options on their websites only for them to magically vanish as options when you open your account. This can sometimes be due to geo-blocking (ie. PayPal wouldn't be accepted for USA players) but on other occasions, it's just laziness by the casino. So BEFORE you deposit, check your cash-out options. There's little point building up a huge bankroll if you can't get your hands on your money, quickly and easily.
Examples: Yukon Gold (read Yukon Gold review) doesn't appear to feel the need for a 'banking' page, which is unusual in its absence. The FAQ is as good as it gets, with 'Yukon Gold Casino accepts deposits from all major credit and debit cards, a variety of bank transfer services, prepaid vouchers, and from the internet's most popular e-wallet services.'. It's hardly clear and essentially means you need to join Yukon Gold to discover your banking options - both for depositing and withdrawing. The 'most popular e-wallet service' we know of is PayPal and this group informs us only players located in the UK can bank at Yukon Gold via PayPal - so it's not a brilliant write-up. At least, at Yukon Gold, members who join the casino are subsequently presented with a decent range of banking options, usually with specific deposit and cashout methods ideal for where you live.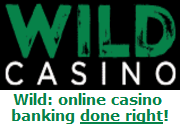 Going a step worse is Juicy Stakes (read Juicy Stakes review) where it's easy to deposit (multiple options) but hardly any methods of cashing out, unless you're happy to receive it via crypto-currency. There's no card cashout option and if you opt for check or wire then you'll be paying hefty $60 fees per transaction and the payouts are not exactly speedy with wire transfers taking up to 15 days to arrive! Even crypto-cashouts, which should be near-instant, take up to two days to reach you at Juicy Stakes. It's not good.
On the plus side, most online casinos do have a (hopefully accurate) 'banking methods' page, or something similarly named. Slotland (read Slotland review) for example might not have the biggest range of deposit or withdrawal options but what they do have on their 'Payment Methods' page is explained clearly for potential new players. Probably our award for 'best banking page' goes to Wild Casino (read Wild review) - take a look and see how online casino banking information SHOULD be presented to potentially new or existing members. It's clear, includes all relevant information and there are LOADS of banking options. Good work, Wild.
Are casino bonuses worth it?
The answer to the above question very much depends on two prime factors. First, what YOU want to get out of your gaming session. Second, the terms of the bonus itself. Not all casino bonuses are born equal. Some are tempting - others should be steered clear of.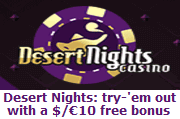 Quickly dealing with the topic of no deposit required bonuses, there's absolutely no reason not to grab these free cash/spins welcome deals. It's a good way to test a new casino and you could find somewhere you become loyal to. Many of the best online casinos such as Desert Nights (read Desert Nights review) attract a lot of their players initially through a no deposit bonus ($/€10 free at sign-up). If the casino is any good, as in the case of Desert Nights, then players will stick around to play with their own real money. On the flip-side, no deposit bonuses can also be a great method of filtering out less-decent casinos by taking their free bonus to investigate around the casino. Once you've seen a handful of casinos, you'll know what looks 'right' for you and what doesn't.
Moving onto you as a player, we mentioned what you want out of your casino activity and if a bonus is a good idea for you. If you want to extend your playing time then it's a no-brainer to accept the bonus, IF the terms are fair. However, bonuses always come with strings attached and you'd better not break any of the rules or terms or you can probably forget about collecting any winnings generated with the bonus. You'll be restricted to playing only a few games (usually slots), have a 'maximum bet allowed' applied, perhaps a maximum cashout amount and almost certainly LOTS of other T&C to be aware of. And that's before we consider the casino's bonus wagering requirement.
The bonus wager requirement is one of the most important terms when it comes to deciding if to accept any casino bonus. At most online casinos, the system seems to be your deposit + bonus x30. If you're claiming a 100% deposit bonus, that'll mean a total wager requirement of x60 and that is THE LIMIT for what we will accept if we are considering a bonus. Anything above x60 is a rip-off, unrealistic to beat and should be ignored. Yes, you'll get a larger bankroll but you almost certainly WON'T complete the wagering requirement before you bust-out and the task of bonus-beating only becomes more difficult if you're claiming a bonus above 100%. Let's say you're claiming a 300% bonus and depositing $100 - your wager requirement would become $100 (deposit) + $300 (bonus) x30 = $12,000 - no easy feat. And several online casinos REMOVE your bonus from any withdrawal! They call that a 'sticky bonus' because it 'sticks' in your account. The best online casinos do NOT do this dastardly deed or apply ANY maximum cashouts even if you've claimed a great bonus and won a fortune.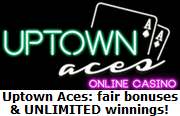 Some casinos seem to WANT their players to avoid its bonuses by applying insanely horrible wagering requirements or win-limitations. We're looking at you, Zodiac (read Zodiac review) with your x200 bonus wagering requirement and also at you, Gaming Club (read Gaming Club review) for limiting wins to just x6 your deposit if you have the nerve to accept a bonus! Returning us to sanity, Uptown Aces (read Uptown Aces review) is a casino we mentioned earlier on this page and it's a perfect example of an online casino that does bonuses properly, fairly and without limits. Whatever you win, you will receive with no maximum cashout applied. As with the BEST online casinos, Uptown Aces never applies any limits to what you can win from any of its deposit bonuses. All casinos should do the same.
Some players never accept bonuses with terms unless it's a complete freebie, usually awarded as a loyalty gift for being a regular player. There's a lot to be said for playing bonus-free, only with your own funds, and it's usually how we play (it has to be a good bonus with acceptable terms for us to even consider it). You'll have complete freedom to explore the entire casino games floor and play whatever you want at the stakes you feel comfortable with. No maximum bonus wins, no max bets, no wagering requirements. It's worth considering if you're prepared to start with a smaller bankroll.
Register with your correct details
The days of complete online casino anonymity are long behind us. There was a time, a decade or two ago, when you could pretty much register under any name and address at any online casino and still have zero problems getting paid your winnings. It's a different story today as most casinos are under the ever-watchful eye of governments, industry bodies and payment processors.
So when you open a new online casino account, enter your CORRECT contact information and any other requested details, ie. do NOT lie about your date-of-birth or country of residence. If you do, you'll regret it enormously when you come to (try to) collect your money and the online casino wants to see your personal documentation to ensure it 100% matches the information you used when you opened the account. The same applies if any of your information changes, ie. if you move to another address. In this scenario, update your account details. Cover your arse, basically, and don't give any online casino an excuse NOT to pay your winnings just because you (intentionally or otherwise) didn't register with accurate information.
Get your account/ID verified - ASAP!
This might be the most important tip on this page. Most of us are/have been guilty of the same thing - depositing at a casino, winning a nice sum - only to have to wait weeks or even months to receive your winnings because of long-winded, complicated verification of your account documents/identification. If you live in the UK or another nanny-state country, you might even have to prove where you got your stake money from! Too often, these delays mean the money is still available to play with and the player ends up losing the intended withdrawal.
Learn from this experience. Next time you want to deposit for the first time at an online casino, ensure you get your documents and account fully verified BEFORE you deposit. Contact the casino's customer support via e-mail or live chat and explain you want to get verified before you deposit any money. Try to be patient. If you inform the casino that you won't be depositing until your account is given the green light then we're confident they will do a rush-job on getting your account verified. And if the verification process does take a long time or you're being asked for unreasonably personal documentation or information then you can decide, BEFORE you've deposited, to move onto another less-awkward casino. You'll have saved yourself some serious waiting time during future cashouts.
---
Games Providers - Join Betsoft Casino - Join Microgaming Casino - Join SpinLogic/RTG Casino
Accepted Country Casinos - Australia - Canada - New Zealand - South Africa - USA
Casino Banking - Bitcoin & Crypto - Interac - Neosurf
Tips for joining an online casino - Insider advice
No Deposit Free Money & Spins
Privacy Policy - Contact Us
---

Copyright © 2023 Join Online Casino